How Plastic Is Brandi Glanville? The Real Housewife Reveals Her Surgery Secrets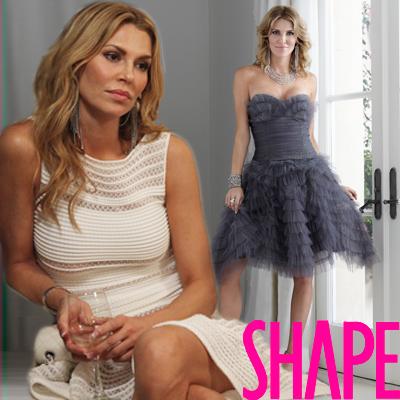 People may call her 'plastic', but just how far has Brandi Glanville gone with plastic surgery?
The gorgeous Real Housewives of Beverly Hills star opens up to SHAPE in an exclusive new interview, revealing all of her plastic surgery secrets, as well as how she copes with all of the criticism.
"Having grown up modeling, I'm very self-aware of my physical appearance," explains the mother of Eddie Cibrian's children. "It's hard to grow older, especially in this town where everyone is perfect! They're all 20 years old and gorgeous, and I'm now in the same dating pool as them, yikes, it's really hard! This town makes you insecure."
Article continues below advertisement
In addition to lasers and photo facials to deal with her issue of adult acne and Melasma, the 39-year-old beauty dmits that she gets a little more help looking fabulous.
"And yes, I'll cop to a few plastic surgery procedures like Botox and fillers," she admits. "I think everyone should do what makes them feel good but remember: Less is more!"
Although she is enjoying her life in the public eye, Brandi admits that not everyone is a fan of hers.