Exclusive
Brandi Glanville Loses Her Son Jake In A Walmart!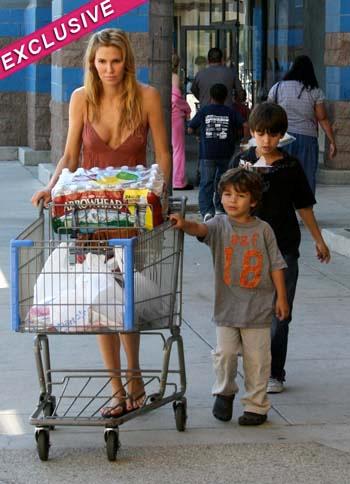 Brandi Glanville lived through every parents worst nightmare Saturday when she lost her son Jake while shopping, RadarOnline.com is exclusively reporting.
The newest member of The Real Housewives of Beverly Hills cast was in a very un-Beverly Hills store, Walmart, when the incident occurred.
Glanville had both her kids from her marriage to Eddie Cibrian -- Mason, 8, and Jake, 4 -- with her when she suddenly realized the younger boy was missing.
Article continues below advertisement
"She was going through the electronics section, pushing her cart, when she suddenly turned around and saw that only Mason was following her," an eyewitness tells RadarOnline.com exclusively.
"She looked instantly panicked and asked Mason, 'where's your brother?' Mason said he thought Jake had gone to the bathroom, and Brandi looked even more frantic. She told Mason he was supposed to be keeping an eye on Jake."
Brandi, pushing her cart while holding on to Mason for dear life, then began racing up and down aisles looking for missing Jake.
"This went on for about five minutes until a voice came over the loud speaker, 'Brandi, your son Jake is in the fitting area'," the witness tells us.
"Brandi was so relieved, she got down on her knees and hugged Jake. She kept saying 'oh my God, oh my God'. She was so relieved."