Exclusive
Bad Girls Unite! Brandi Glanville And Camille Grammer Are BFFs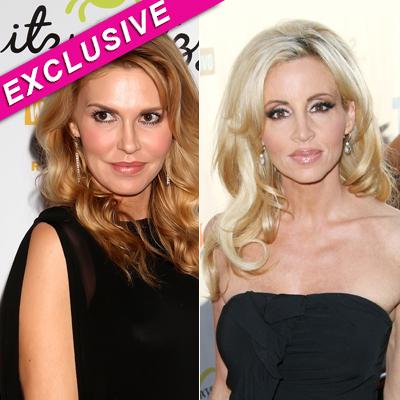 Real Housewives of Beverly Hills star Camille Grammer can breathe easier now she's no longer the villain on the highly popular show -- those designer shoes have been firmly filled by newcomer Brandi Glanville, yes, Eddie Cibrian's ex.
In the season two preview trailer, fans see a catfight between Brandi and co-star Kim Richards where Brandi is overheard calling Kim a "b*tch" and accusing her of using "crystal meth."
Article continues below advertisement
But, for all the catfights and b*tching, Brandi has found one unlikely ally, last season's bad girl de jour, Camille.
"I like Brandi, and I enjoy her company a lot, actually," Camille tells RadarOnline.com in an exclusive interview. "I think she speaks her mind and she's a riot. She makes no excuses. She says what she feels and I like that genuine realness she has. It's refreshing."
Camille says she and Brandi are firm friends and that they bonded together as both went through very painful and public divorces.
"We discussed our divorces and connected," Camille says. "She and I both went through a very difficult time, and I think we sort of bonded. She's a year ahead of me in her divorce, and she's a strong as nails."
As for season two of RHOBH, which premieres on Bravo on Monday, Sept 5, Camille is staying mum on what we can expect.
Move Over Camille! Brandi Glanville Is The New Bad Girl In 90210
"All I can say is that there will definitely be more drama than last year," she says. "There's so much more and many surprises. You've just gotta tune in."