Exclusive
Move Over Camille! Brandi Glanville Is The New Bad Girl In 90210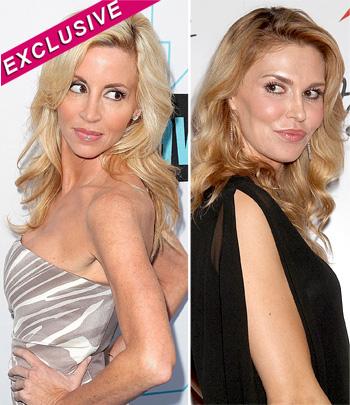 Kelsey Grammer's ex-wife, Camille, is no longer the villain on the hit Bravo show, Real Housewives of Beverly Hills, RadarOnline.com has learned.
Another actor's ex-wife has taken those reigns – Eddie Cibrian's first wife, Brandi Glanville – and by all accounts she's bringing the bitchiness... And some!
During the first season, Camille was seen sparring with Kyle Richards in virtually every episode, as well as butting heads with all the other housewives and generally being a royal pain in the ass!
Article continues below advertisement
Not surprisingly, Camille didn't like the way she was portrayed on the show and has worked hard to repair her image, our source tells us.
"Camille felt that she was made to be the resident villain during the first season and she is determined to not be seen that way again. Camille is getting along very well with Kyle this year, and they have had no arguments at all. Camille has enough drama going on with Kelsey, and she recognizes that she needs her female friends right now," the insider tells RadarOnline.com.
So... Cue Brandi, who is taking over from where Camille left off last year!
"Brandi is fighting with everyone on the show. Brandi makes Camille look like a saint," our source reveals. "Bravo executives brought Brandi in to spice things up because they felt there wasn't enough tension and it was very, very boring to watch. The executives were concerned that without Brandi, the ratings would suffer because there wasn't enough drama. Well, casting Brandi is paying off, big time. Brandi is all drama, all the time."
Article continues below advertisement
Also bringing some extra, unexpected, tension this season is Taylor Armstrong. As RadarOnline.com previously reported Taylor has had a complete turnaround after undergoing therapy and has gone from mild-mannered to in-your-face confrontational.
The large lipped lovely has especially been feuding with Adrianne Maloof, and not surprisingly, going head to head with Brandi.
Let the fireworks begin!
Filming is currently ongoing, and Bravo is expecting to air the second season in October.