Exclusive
Brandi Glanville's Outrageous Revenge On LeAnn Rimes & Eddie Cibrian -- Sex On Their Son's Bed!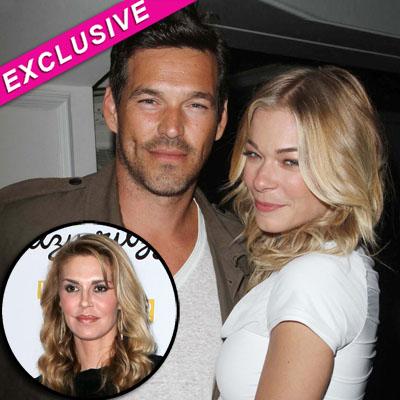 By Dylan Howard - Senior Executive Editor, Star magazine
Just as the dust was starting to settle, Brandi Glanville is again stirring-up a nasty feud with her enemy ex-husband, Eddie Cibrian, and his new wife, LeAnn Rimes.
Even though the warring women called a Twitter truce months ago, the new Real Housewives of Beverly Hills star, 38, has again fueled the long-running rivalry with an outrageously suggestive Tweet.
Article continues below advertisement
"This is what I'm do n tonight! On star wars sheets," she wrote, referring to the snapshot she posted of a young mystery man lying in a child's bed — likely belonging to one of her and Eddie's sons, Mason, 8, and Jake, 4.
And a source close to the newlywed couple is convinced that Brandi showing off her latest sexual conquest is anything but innocent.
"The only explanation as to why Brandi would publicly tweet that photo was either to make Eddie jealous or to make him mad as a parent."
Either way, it didn't faze the Playboy Club actor. "Eddie couldn't care less about her," the source adds.
But the controversial tweet does add to the couple's concern about Brandi's not-so-model behavior.
Following her DUI last October, Brandi insisted: "I don't think I have a drinking problem. I think I had a problem the other night when I made a bad choice to drive."
But Eddie, 38, was already so worried about Brandi's alcohol-induced antics during the collapse of their eight-year marriage that he sent a letter to her friends "pleading to get her help."
Article continues below advertisement
With her sexcapades and drinking drama, Eddie is on edge when his two sons spend time with bad-behaving Brandi.
"He's really worried about the kids, and so is LeAnn," the source says.
To make matters worse, Brandi is Googling her ex's extramarital affair — Eddie infamously cheated on his then wife with LeAnn, 28 — in front of their eldest son, Mason, who's reporting everything to his stepmom!
"Brandi wants to put stuff in Mason's head so she can cry, 'I didn't say anything, he just read it,' " the source says.
"Brandi is out for revenge," another insider reveals. But LeAnn is over all the drama with Eddie's ex. "She wishes Brandi would just move on!" her pal tells Star.
Brandi is not just triggering trouble in her family. In the teaser for The Real Housewives of Beverly Hills, returning in September, newcomer Brandi is seen getting into it with Kim and Kyle Richards, at one point fuming: "I will f**king kill you!"
Article continues below advertisement