Exclusive
Bobbi Kristina Is Secretly Engaged!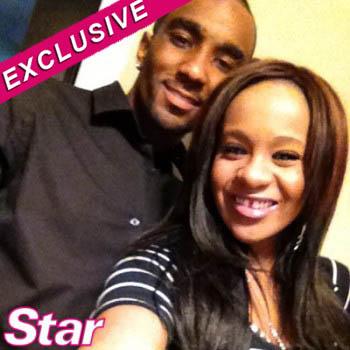 Just one month after her mother's tragic death, Bobbi Kristina Brown has found love again and is secretly engaged!
The 19-year-old daughter of the late Whitney Houston and singer Bobby Brown has agreed to marry Nick Gordon, a longtime friend who's known as her "adopted brother," Star magazine is exclusively reporting in the new issue, but the couple is keeping the news a secret for now.
Article continues below advertisement
"Nick proposed to Krissy on March 10, and she said yes," a family friend told Star. "Krissy said Nick is the only person she trusts in the world. They have a very deep connection."
Bobbi Kristina lives with Nick, 22, in Whitney's $1.2 million Atlanta townhouse, and they call each other "brother and "sister," says the source.
Although he was never adopted by Whitney, she took Nick in several years ago after his father went to prison and his mother was unable to care for him.
"Nick took care of Whitney and Kristina," his grandmother Maxine Gordon tells Star. "He's always been extremely protective of Kristina."
Krissy and Nick are keeping their engagement secret and haven't told too many people yet, but Star has learned that many insiders are suspicious of the timing of the proposal.
With Bobbi Kristina set to inherit all of Whitney's $10 million fortune, "Everyone is worried that Nick is looking to take advantage of Krissy," the pal tells Star.
Article continues below advertisement
As she struggles with her mother's February 11th death, Bobbi Kristina is desperate for someone to lean on.
"She's taking prescription pills and saying things that make her family feel she's suicidal," the family friend said. "Nick is getting her at her most vulnerable. If he really loved her, he'd back off the engagement and just be her friend."
For more exclusive information about Bobbi Kristina's secret engagement pick up the latest issue of Star magazine on newsstands Thursday.