Oprah Cries During Interview With Whitney Houston's Sister-In-Law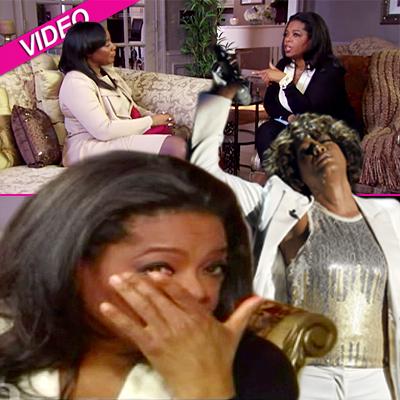 Whitney Houston's sister-in-law Patricia Houston left no stone unturned in describing to Oprah Winfrey the horrible series of moments in which she discovered the talented-yet-troubled music icon had died last month.
Patricia, who's married to Whitney's brother Gary, said in her appearance on Oprah's Next Chapter Sunday that while the "handwriting was kind of on the wall" that the embattled Grammy-winner would suffer a premature death, the events of Saturday, February 11, still resonated with deep and shocking pain.
Article continues below advertisement
Patricia said she'd just finished a few chores when she went to see the I Will Always Love You singer in her suite at the Beverly Hilton Hotel, where she was to attend Grammy-related festivities that weekend.
"I headed down the hallway ... I heard screaming," Patricia recalled, sobbing. "I saw Whitney's makeup artist Mary drop to her knees and I knew something was wrong. I was just numb. I walked. I told her to dial 911.
"I got close, and I turned the corner, Mary was at the door, and she is screaming 'Oh my God!' I told her to stop and I said, 'Calm down."'
Patricia said Whitney's security guard Ray gave everything he had to try and help the fallen singer.
"When I got into the room I saw Ray trying to revive her to the point of exhaustion. I said, 'Ray!' -- the paramedics were coming in at that point -- I said, 'Ray let it go.' He said, 'I tried.' He was so out of breath, I felt so badly for him."
MORE ON:
Bobbi Kristina Brown
Article continues below advertisement
Patricia said she saw Whitney lying in the bathtub, looking at peace.
"I don't know how she got there -- paramedics had to pull her out of the tub and were trying to revive her," Patricia said, noting she struggled to leave the room during their resuscitation efforts.
"I saw them cover her up and I knew that was it. I knew that was it. Just looking at her and watching that I still could not believe it I could not believe it."
Watch the video on RadarOnline.com
"Were you always afraid of that day, February 11, showing up in your life?" Oprah, also weeping at this point, asked Patricia. "Were you always afraid of getting a phone call or hearing that this is the day that it's happened?"
Patricia said, "If things hadn't changed -- but things had, were, changing. Things were really changing with her. Very much so ... not this soon, I never thought anything like this would happen."