Before The Tragedy Began: Whitney Houston's Teenage Model Pics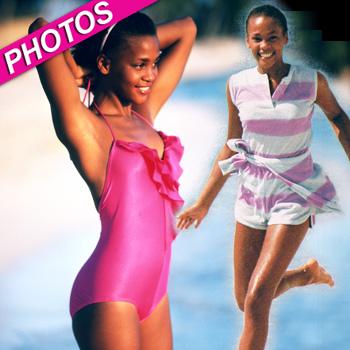 These pics might well up your eyes, as RadarOnline.com has shots of a fresh-faced, teenage Whitney Houston modeling in her younger days.
In the pics, the wiry Whitney, who died February 11 at age 48, is clad in a red one-piece swimsuit and a fuchsia one-piece swimsuit with ruffles, and she looks beautiful.
While she's best remembered for her tunes, the New Jersey-born superstar actually broke the mold during her early modeling days, becoming one of the first African American models to grace the cover of Seventeen magazine at just 18 years of age in 1981.
Article continues below advertisement
Diane Forden, a fashion editor who worked alongside the young Whitney, remembered the late star as being just as beautiful on the inside.
"I had the pleasure of working with Whitney during her high school years when she was a teen model," Forden wrote on the website BridalGuide.com. "She was a delightful, sweet, wonderful person, and all of us who worked with her loved her. She was truly beautiful inside and out.
Forden also praised the young star for her professionalism.
"Anytime we were booking models for a photo shoot, we would always say, 'Let's book Whitney,' 'See if Whitney is available,' 'Whitney would be great for this story.' She was never a diva and she was always professional. She showed up on time and made our jobs easier by doing her best in front of the camera. She never complained if days ran long and cheerfully did whatever was expected."
Article continues below advertisement
Two years later in 1983, Whitney would ink her contract with Arista records, and fame and fortune would follow by 1985 with the release of her self-titled album, which sold more than 25 million copies internationally.
While the I Wanna Dance With Somebody singer's autopsy is complete, it might be several weeks before authorities in Los Angeles can determine what killed the Grammy-winning singer.
Although, as RadarOnline.com exclusively revealed, Whitney had a deadly mix of Valium, Xanax and alcohol in her system.