Taylor Armstrong Opens Up About Russell's Shocking Abuse And Claims, 'I Love Him To This Day'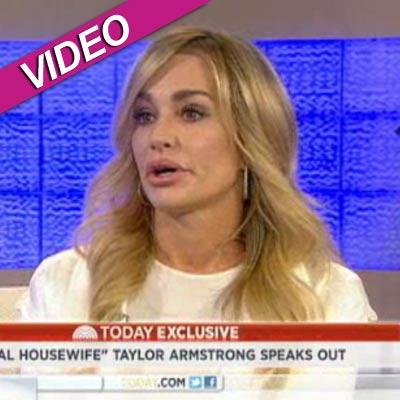 Real Housewives of Beverly Hills star Taylor Armstrong opened up about why she went public with her story of abuse at the hands of her late husband Russell, her lowest point in the relationship and how she still loves and misses him in an exclusive interview with The Today Show Monday, and RadarOnline.com has a video clip. 
Taylor -- who's promoting her memoir, Hiding from Reality: My Story of Love, Loss, and Finding the Courage Within -- admitted she was hesitant to reveal her tale of abuse after Russell was found hanged in a Los Angeles home August 15 after the show's sophomore season had been taped.
Article continues below advertisement
Taylor said she felt compelled to go public with the truth behind their abusive marriage so her struggle could "end up helping somebody else out there.
"I got out way too late. I hope by others hearing the story they may get out sooner. When I wrote Hiding from Reality, I wanted it real and honest. Some of it was difficult to write. I love him to this day and miss him terribly."
Taylor admitted it was "absolutely" difficult to watch the show's second season, as she sees herself "as someone who was clearly breaking down.
"I was trying to keep a lid on a boiling pot; trying to hide the personal relationship while trying to be in front of the cameras," Taylor said. "It was seeping out too much."
Taylor said her lowest moment in the marriage came when she was "on her knees over a toilet with my jaw not in the place it was supposed to be" after Russell injured her during one of her breakdowns.
"There was saliva running out of my mouth and I was thinking, 'How am I not going to call an ambulance? How do I protect him? I don't want him to go to jail.'"
Article continues below advertisement
Taylor said as she hovered over the toilet, injured, "The only thing I could think of was -- forget my jaw, I want to protect him."
While many have speculated the intense glare of the cameras -- and high standards of Beverly Hills -- might have driven Russell over the edge, Taylor insisted Russell was a ham when it came to the show.
"He loved it -- he loved being in the media," she said. "He would wake up every day and go to his Blackberry and the first thing would look at Google Alerts with his name in it.