Exclusive
Teen Girl From New Jersey Made Death Threats Against Taylor Armstrong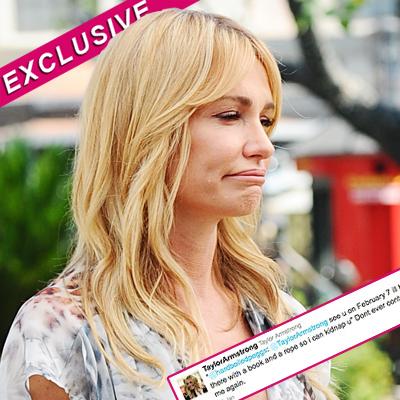 By Jen Heger - Radar Legal Editor
Real Housewives of Beverly Hills star Taylor Armstrong received death threats on Twitter from a New Jersey teen, RadarOnline.com is exclusively reporting.
As previously reported, on January 29, Taylor was sent a Twitter message by @Hardboiledpeggs which said, "see u on February 7 ill be there with a book and a rope so i can kidnap u," which Taylor responded by saying: "Don't ever contact me again."
Article continues below advertisement
PHOTOS: Taylor Armstrong Out in Beverly Hills
The next ominous message mentioned Taylor's young daughter, Kennedy: "Turn around bright eyes every now and then, Kennedy's dead," @hardboiledpeggs wrote, to which Taylor replied once again: "Don't ever contact me again."
The Twitter user @hardboiledpeggs has since been deleted. Armstrong has a book signing event scheduled on February 7 in New Jersey, and a source says security has been amped up in light of the threats.
PHOTOS: Real Housewives: Best or Bust?
Meanwhile, the FBI was able to determine very quickly, who was making the threats, the source says.
"This was taken very, very seriously. The death threats Taylor and her daughter received are from a teenage girl that lives in New Jersey. The teenager appears to suffer from mental health issues," a law enforcement source tells RadarOnline.com. "Taylor is extremely grateful to the FBI for identifying the culprit.
Article continues below advertisement
"It was disturbing for Taylor to find out that the girl lives in New Jersey, because of the specific threat she got in regards to her book signing in the Garden state on February 7."
PHOTOS: Bikini Bash In St. Barts For NY Housewives
It's been a rocky past year for the Bravo star after her husband, Russell Armstrong, committed suicide last summer because of financial woes. Taylor's new memoir, Hiding From Reality, details the violent beatings she endured at the hands of Russell, the verbal abuse she suffered in front of her daughter and raises allegations he secretly spied on her during their marriage.