Russell Armstrong Told Taylor That Sex With Her Was Like 'Having Sex With A Skeleton'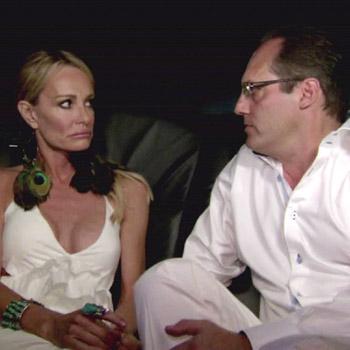 Article continues below advertisement
"He would make comments when we were sexual and you know about my weight...no woman needs to be criticized in that moment...criticisms about having sex with me is like 'having sex with a skeleton,'" she claimed.
Armstrong said that the emotional abuse remains with her long after the wounds from her physical abuse have healed.
"I think you can see my eye has healed, but these things are going to stick with me a long time and sometimes, the emotional can hurt worse than the physical almost," she said.
As RadarOnline.com previously reported, Russell was found hanged at a friend's house in August 2011 following a tumultuous summer where his wife filed for separation.
Monday morning on the Today Show, Taylor said she wrote the book to help other people in abusive relationships. "I got out way too late. I hope by others hearing the story they may get out sooner. When I wrote Hiding From Reality, I wanted it real and honest. Some of it was difficult to write. I love him to this day and miss him terribly."