I'm A Big Boy Now! Sandra Bullock's Little Cajun Cookie Is Growing Up Fast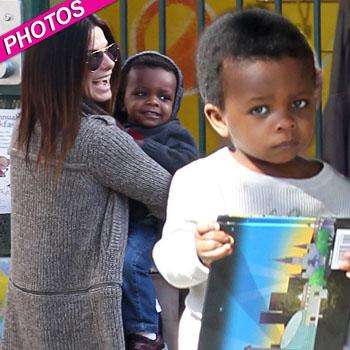 Sandra Bullock's adorable "Cajun cookie" is growing up fast!
Louis Bardo just turned two, and on Tuesday he was showing off to his mommy that he's a big boy now, walking up the stairs by himself as Bullock picked him up from school, and RadarOnline.com has the super cute photos.
Little Louis looked as stylish as ever in a sweater, jeans and sneakers, masterfully climbing the stairs, clutching a school book in his hands as mom Sandra looked on proudly.
Article continues below advertisement
Seems the toddler soon tired though as Bullock was later spotted carrying him to her waiting car.
As RadarOnline.com previously reported, the 47-year-old originally planned to adopt Louis with her then-husband, Jesse James.
After news broke that James had cheated on the Oscar winning actress with an array of women, Bullock promptly filed for divorce and finalized the adoption as a single parent.
James later told Good Morning America that losing contact with Louis, who was born in New Orleans had been "painful."
"I could only cry so much about him until I have to, like, suck it up and keep a stiff upper lip, and realize, hey, I have three kids that I do have," he said.
However, he doesn't hold such fond memories of his ex-wife though. In his book, American Outlaw, the tattooed bad boy called Bullock a "calm, steady, and predictable wife." Going on to claim that she was a woman "for whom a night at home watching a new-release DVD constituted a thoroughly stimulating evening of entertainment."
Article continues below advertisement