Say That Again Mom! Sandra Bullock's Usually Somber Louis Bardo Is All Laughs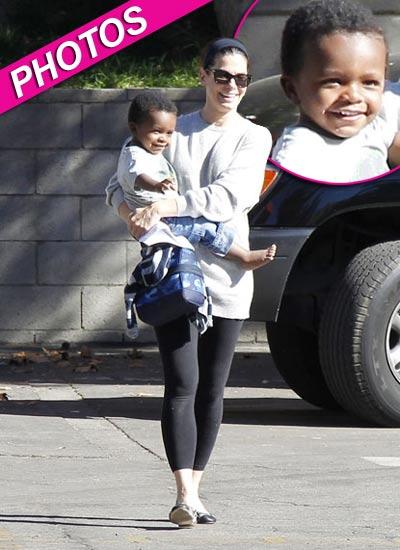 He's usually a somber little boy, but Thursday Sandra Bullock must have been pulling out all the comedic stops, as her little "Cajun Cookie" was all laughs.
Two-year-old Louis Bardo appeared to be roaring with laughter as his 47-year-old mom picked him up from preschool in Los Angeles, and RadarOnline.com has the super cute photos.
The Oscar winning actress looked like any regular, proud mom, beaming with a wide smile, dressed in black leggings and a gray sweatshirt, her hair pulled back with a headband and super trendy GUESS by Marciano sunglasses in place— whereas barefoot Louis was dressed for the unseasonably hot L.A. weather, in a T-shirt and rolled up jeans.
Article continues below advertisement
Sandra adopted Louis from New Orleans — she initially started proceedings with her motorbike bad boy then-hubby Jesse James, but after the scandal broke that he had cheated with at least four women, she filed for divorce and sealed the deal as a single mom.
As RadarOnline.com previously reported, the usually stoic Bullock is finally opening up about the pain caused by her marriage split from James.
The Miss Congeniality star admitted to the Associated Press' Jake Coyle that she thought she'd never return to acting following the humiliating debacle, and that she believed she was "permanently broken."
"I was perfectly content to be permanently broken...time-wise," Bullock said of returning to work after the 2010 scandal, which started with revelations that James had cheated with tattoo model Michelle 'Bombshell' McGee.
The news of James' infidelity broke just days after Bullock won her best actress Oscar for her role in The Blind Side -- during her acceptance speech she gave thanks to her husband of five years, obviously oblivious to the brewing scandal.
MORE ON:
hollywood happenings
Article continues below advertisement
Bullock told the AP that director Stephen Daldry lured her back to set with a starring role, opposite Tom Hanks, in the new movie, Extremely Loud & Incredibly Close, which details events following the tragedy of September 11.
"I honestly didn't think I was in a place where I wanted to work or wanted to step out of where I was. ... I wasn't prepared. But the opportunity was louder than my head," she said.