Sandra Bullock On Her Clandestine Christmas With 'Little Flirt' Louis Bardo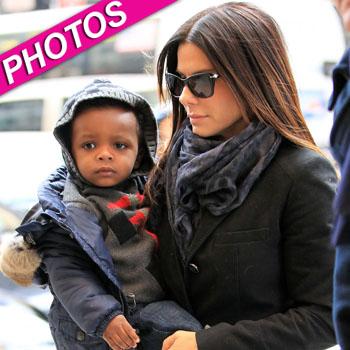 Someone alert the customs department!
Sandra Bullock has revealed that she's not as squeaky clean as many think, confessing that she smuggles German sausages into the U.S. for Christmas!
The 47-year-old appeared on The Tonight Show Monday and opened up to Jay Leno about her clandestine Christmas fare and the special man in her life, adorable two-year-old son Louis Bardo.
"Louis is a real flirt," Bullock confessed, before going on to explain that her little "cajun cookie" is already quite the ladies man who "appreciates the fairer sex."
Article continues below advertisement
"He doesn't flirt with me like that, and someone told me that's probably a good thing," she quipped. "He's got a look where he just cuts the eyes at the ladies, and I'm like, 'I'm so sorry! I don't know what's happening!'''
The Oscar winning actress went on to share about how Louis is still a little young to fully appreciate the holidays: "I don't think he understands the concept, but he does understand that everything at his height level is really bright with lots of lights," she said.
"He doesn't get it yet but I think next year he'll get it and demand things."
Meantime, one thing that Bullock demands? Her favorite German sausages, and she'll even go to illegal means to get them!
"Basically now since my mother passed we break the law because we have to manage to smuggle German sausages into the country and apparently bringing meat across the waters is against the law," she confessed. "So literally we send out, you know, SOS to about five people that they should send us meats.
Article continues below advertisement