Jesse James Trash Talks Sandra Bullock In His Return To TV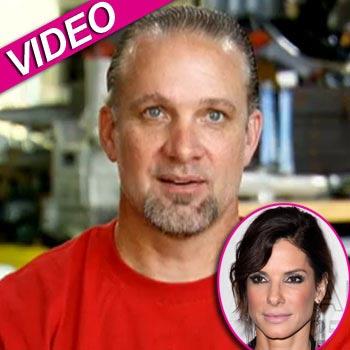 By Alexis Tereszcuk - RadarOnline.com Senior Reporter
He just can't help himself.
Jesse James is returning to TV after his own show ended and disastrous appearances on ex-fiancee Kat Von D's reality show, and true to form he's talking trash.
In this sneak peek of American Chopper: The Build-Off obtained by RadarOnline.com, James goes head to head with Paul Teutul and Paul Teutul Jr to build a new bike, and he has a lot to say.
Article continues below advertisement
"I became a big shot and married some Hollywood actress and didn't talk to anybody anymore, so I feel bad," James says at the beginning of the episode.
His reference to America's Sweetheart Sandra Bullock as "some Hollywood actress" is sure to rile fans of The Blind Side star, and not exactly endear James to viewers.
James creates a stainless-steel "middle-finger" bike which is apparently the first motorcycle he's personally built in five years and he explains his reason for returning to TV.
"I feel obligated to reconnect with all these people and show 'em that I'm still the same fabricator motorcycle guy. I'm not what I became."
It's not clear if James is blaming Bullock for "what he became," but their marriage imploded over revelations he'd had numerous affairs.
But Bullock isn't Jesse's only target during the episode. "I don't know what the Teutuls do for a gas tank, I think he (Paul Teutul Senior) just yells at someone to get it done and it didn't matter how it got done."
Article continues below advertisement
He slams the bikes that they build compared to his. "I can't see that stuff lasting, I think it will work if the bike is static and gets started up for TV. My stuff is meant to withstand punishment.
"It's got to look good, be stylish, be flawless and beautiful and chrome and on top of everything else it's got to function."
American Chopper: The Build-Off airs Monday at 9 p.m. on the Discovery Channel and the winner will be announced live on Tuesday's show American Chopper Live: The Build-Off broadcast from the Hard Rock Hotel and Casino in Las Vegas.