What's Up Little Louis? Baby Bardo Has Got The Blues!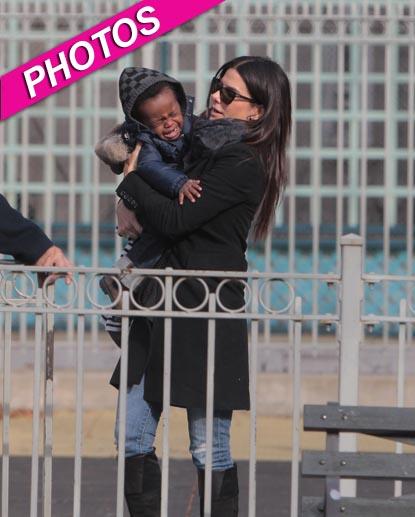 With a beautiful Oscar winning mom and a jet set lifestyle, what possibly could little Louis Bardo have to cry about?!!
Showing that he's just a regular little guy at heart, the toddler had a tearful tantrum Monday as his mom, Sandra Bullock, summoned all her powers to calm him.
Proving she's an award winning mom as well as actress, the 47-year-old soon had things under control after doling out lots of hugs and kisses to her little "Cajun cookie."
Article continues below advertisement
A calm little Louis was soon seen hurtling around the local New York park on his little toy car, his proud mom looking on.
Sadly, Sandra hasn't had as much joy quieting down her ex-husband Jesse James.
As RadarOnline.com previously reported, the motorbike bad boy just can't stop disrespecting the single mom.
In a sneak peek of James' new reality show,  American Chopper: The Build-Off obtained by RadarOnline.com, James goes head to head with Paul Teutul and Paul Teutul Jr to build a new bike, and he has a lot to say. 
"I became a big shot and married some Hollywood actress and didn't talk to anybody anymore, so I feel bad," James says at the beginning of the episode.
"I feel obligated to reconnect with all these people and show 'em that I'm still the same fabricator motorcycle guy. I'm not what I became."
It's not clear if James is blaming Bullock for "what he became," but their marriage imploded over revelations he'd had numerous affairs.