Jesse James: 'Sandra Bullock Has Cut Off Contact With My Daughter'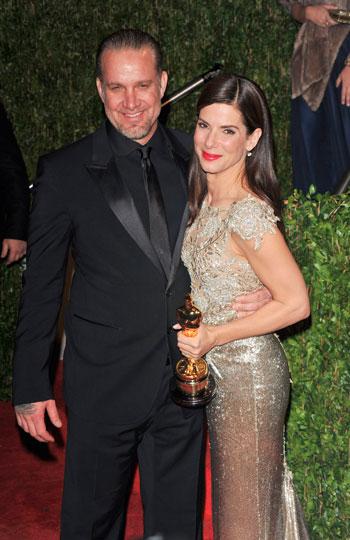 by RadarOnline.com Staff
Jesse James wants America to love him.
The former Mr. Sandra Bullock has written a new book, American Outlaw, and is appearing on Wednesday's Good Morning America and Nightline to promote it.
Sandra Bullock and Jesse James Through the Years
Speaking to correspondent Vicki Mabrey, James says that after he and Bullock divorced, he moved from Southern California to Austin, Texas so that his daughter Sunny could continue the relationship she'd developed with stepmom Bullock.
Article continues below advertisement
He also wanted to remain in contact with Louie, the baby he and his The Blind Side star wife were in the process of adopting when the split occurred.
"I don't want to try to second guess what she thinks or something like that," said James, who admitted his cheating caused the divorce from Bullock. "I mean, I know why I moved."
"I moved initially so the kids could keep a relationship and I could kind of keep a relationship with Louie, and then whatever else happened besides that."
James, 42, has sole custody of his daughter Sunny, whose mother is Jesse's second wife, Janine Lindemulder. She was in prison for tax evasion during some of the years James and Bullock were married, and the Sandra developed an extremely close relationship with her stepdaughter.
But James revealed that Sunny has seen Bullock only a few times since the split, even after he moved to her home town of Austin. "There's been no contact at all for several months," he said.