AUDIO: Bombshell McGee - 'I Don't Believe Charlie Sheen Is Clean'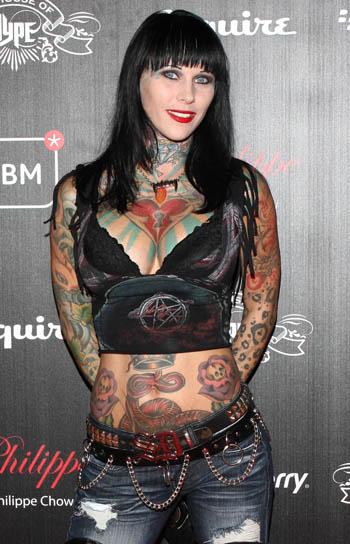 Michelle "Bombshell" McGee has done a blockbuster interview on World Talk LIVE with Brett Cohen 3/10/11 where she says she doesn't believe Charlie Sheen has stopped using drugs. You can listen to it here on RadarOnline.com.
Bombshell, the tattooed actress/model famous for her affair with Sandra Bullock's now ex-husband Jesse James, spent an equally famous weekend with Sheen and several porn stars in Las Vegas in January.
Article continues below advertisement
Cohen asked McGee if she'd want to become a Sheen 'Goddess' and she was adamant that she didn't. "Oh no... not a chance. I think that he is a hot wreck and I want no part of that, she said.
"I don't believe he's clean. I believe he has a very severe drug problem and I feel sorry for his children to be around that. Yeah, I would not want to part of that. There's no amount of money that you can pay me to be a part of that. No."
The interviewer pressed Bombshell on why she's so certain Charlie is still using drugs, despite having passed drug tests that were commissioned exclusively by RadarOnline.com.
"He's smoked crack for 20 years. There's no way that he's cured himself of that," she said. "Just look at him, he looks like he's on a good one. You know, he's on the f***ing ride of his life right now. He's got some serious issues and I hope nothing but the best for him, but he needs to get help."
Article continues below advertisement
Bombshell also revealed that the behavior that Sheen has been exhibiting in his recent TV and internet interviews is the same as how he was two months ago when he was doing drugs in his Vegas hotel suite, a fact he's since admitted to.
"Oh, absolutely. Oh yeah. You know, Charlie's a really fun guy," Bombshell said. " He likes to have fun. He's really cool."
But, she added, "He's got some issues"