Patti Blagojevich Claims Husband Rod Is Innocent, He Is Not 'A Dirty, Rotten, Corrupt Guy'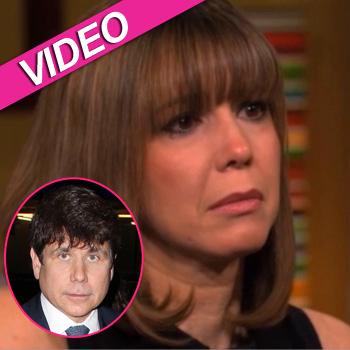 Article continues below advertisement
"Under hard times you either split up or you stay together," Blagojevich, who has stood stead-fast by her husband's side, told host Rosie O'Donnell.
The Democratic politician was arrested in December 2008 on numerous conspiracy charges including intention to commit mail and wire fraud, and solicitation of bribery. He went on to become the first Illinois governor to be impeached for corruption and misconduct in office, and was found guilty in December 2011.
When asked if she ever considered breaking up with Rod knowing that he would be gone for a decade, Patti said whole-heartedly: "No, never. The thing is that when you've built a life with somebody, when you've had children with somebody, when you've gone through the loss of his parents, the loss of my mom... When you've worked together through common goals for so long...
"It would be different if I believed he was a dirty, rotten, corrupt guy who did all these things, but when I know that this has been brought upon him and he's always been a great father and a great husband," she said, and then when prompted by Rosie, "And a great governor."
Article continues below advertisement
O'Donnell went on to ask directly, "Do you think he's innocent of all charges?"
"Yes, I am positive. I was there and I have heard all the conversations, and I know what is his heart. So much of this case is about intent, 'What was his intent?'
"I know his heart, they can say whatever they want. I know what his intentions were, I know he took the trust that people put in him seriously and honestly and always wanted to live up to that trust," she said firmly.