Oprah Winfrey: President Obama Will Be Re-Elected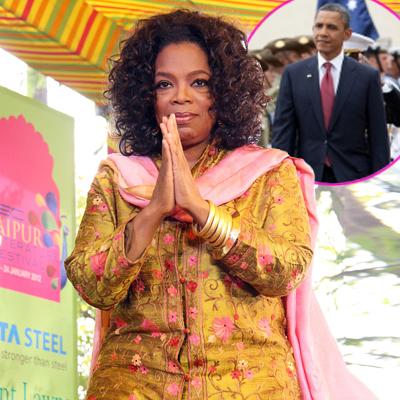 Oprah Winfrey believes President Barack Obama will be re-elected.
The media legend, speaking at India's annual Jaipur Literary Festival Sunday, said she thinks the commander-in-chief will be able to get the country's sagging economy back on track from 2013-2017 upon his re-election.
Winfrey has been in India taping content for her OWN network. Asked about the upcoming election, she said, "I think that the president's next four years are going to be even more successful for our country and that people are going to get back to work.
Article continues below advertisement
"Its going to be a really good thing that he remains in office," she explained. "I feel very strongly that he will remain in office. I am not being overly confident about it but when you look at the other party, I'm just saying."
Fun fact: After more than 20 years on the air, Oprah gave her first political endorsement ever in 2008 to Mr. Obama.
RELATED STORIES:
Oprah Or Barbara Walters? Jerry Sandusky Shopping Around Sit-Down Interview