The Book Club Fight Club? Jimmy Kimmel Pitches Oprah On New Shows For OWN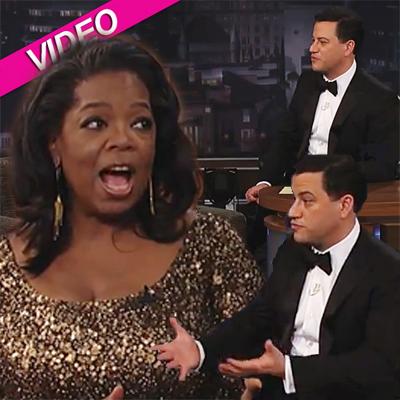 Hey, he tried.
Late night host Jimmy Kimmel and talk show icon Oprah Winfrey teamed up for a bit on ABC's official post-Oscars show Sunday, After the Academy Awards, in which Kimmel, in vain, gave the Chicago legend his best pitches for shows for her OWN network.
"I feel as if I wasn't heard," Kimmel groused.
"It's not that you weren't heard," Oprah joked, "it was just that you were so far off brand!"
Article continues below advertisement
Among them: Oprah Repos Her Favorite Things, in which the generous talk show host takes back all of the gifts she's awarded over the years.
"That's stealing," Oprah deadpanned to Kimmel, who said, "It's not stealing ... you're just taking your things back!"
There was The Jimmy and Oprah Interview, in which the household names competed -- at the same time! -- to get answers from the same interview subject. (In this case, the lovely Jennifer Aniston.)
After Oprah raised concerns the concept might be too confusing, Kimmel shot back, "On The View, they have like eight people asking questions at once -- that works!"
Watch the video on RadarOnline.com
And let's not forget The Book Club Fight Club -- Jimmy's update on Oprah's stalwart literary feature, with a violent twist -- "because reading is the most boring thing in the world."
Jimmy Kimmel Live! airs on ABC weeknights at 12/11c.