Muhammad Ali's 70th Birthday Party Is An All-Star Bash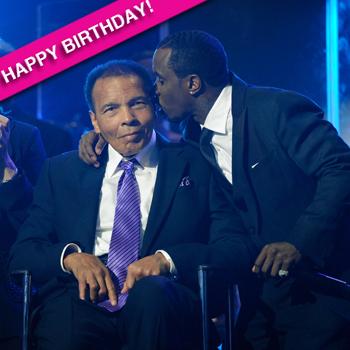 His birthday was actually last month, but none of the dozens of A-Listers who came out Saturday night to celebrate Muhammad Ali turning 70 cared one bit. And it didn't stop them from opening their wallets big time during the auction that raised millions for his charity.
Stevie Wonder, who had given an emotional performance during Whitney Houston's funeral that morning, sang "Happy Birthday."
Article continues below advertisement
Snoop Dogg performed a medley of his hits. John Legend, Lenny Kravitz, Slash, Kelly Rowland and Cee Lo Green all performed, and dressed as a fighter entering the ring, LL Cool J rapped Mama Said Knock You Out.
The boxing great has suffered from Parkinson's disease for the last 30 years, and his annual gala raises funds for the Cleveland Clinic Lou Ruvo Center for Brain Health and the Muhammad Ali Center in Louisville, Ky., a cultural attraction that celebrates Ali's life and pushes educational goals.
The event took place at the MGM Grand in Las Vegas, and brought out other sports greats like David Beckham, Manny Pacquiao and Andre Agassi.
Cindy Crawford and Rande Gerber, Anthony Hopkins, Quincy Jones, Sammy Hagar and Samuel L. Jackson all paid homage to the greatest. Sean "Diddy" Combs couldn't help but give Ali a kiss on the cheek during his time on stage with the former champ.
With Larry King handling the auction, a set of gloves Ali used to defeat Floyd Patterson in 1965 in Las Vegas sold for $1.1 million! Lorenzo Fertitta, the owner of the Ultimate Fighting Championship, was the proud winner.