Jennifer Aniston Gets Present For Puppy From Ellen, Explains Rib On Boyfriend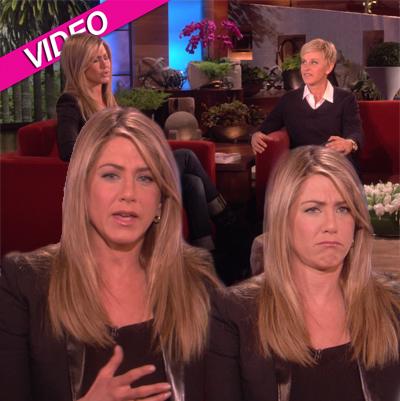 Jennifer Aniston didn't leave The Ellen DeGeneres empty-handed Thursday.
Ellen gave the Wanderlust star -- who's celebrating getting a puppy named Sophie -- a mask and coat for her little pup, since after all, she's going to have to avoid the paparazzi like her mama.
In the appearance, Ellen jokingly grilled Aniston, 43, over her boyfriend Justin Theroux's claims the Friends star is obsessed with making him break dance. When Justin told Ellen he can only dance in his special shoes, Ellen brought out the pair, which she got from Jen.
Article continues below advertisement
"I feel quite guilty about this because ... I said, 'You should probably prepared, because Ellen likes to surprise with things,'" Jen explained. "Like one time, she made me sing and one time she gave me vibrating things … I don't know, you do games and stuff ...
Jennifer Aniston: 'There's A Lot Of Nudity In Wanderlust!'
"He was like, 'She won't do that to me: I'm a first time guest.' I was like, 'You're right. She would never do that to you honey'... and there I go, and I help you in your trickery."