Jennifer And Justin Add To The Family! Aniston And Theroux Adopt!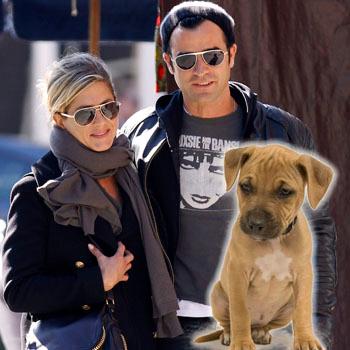 Article continues below advertisement
"She's the most adorable little cookie you've ever seen," the proud pop told New York Magazine, and showed off a picture of the pup on his phone.
"She looks like she just smoked an exploding cigar."
Jen's beloved corgi mix Norman passed away last year, and in a sweet homage to her pooch, she tattooed the Norman's name on her foot and purchased her new $4.5 million apartment in New York under his name, The Norman's Nest Trust.
Sophie joins Jennifer's other dog Dolly, a white German Shepherd that she and Justin are often spotted walking together .
Jennifer and Justin attended the premiere of their new movie Thursday night in Westwood, Calif. where she gushed about the great time she had shooting the film.
"I was pretty much having a ball, from start to finish. Nobody wanted to go home -- we loved going to work. When we finished work, we would all go to dinner together, then we would come back."