Jennifer Aniston's First Tattoo Inked In Memory Of Her Dog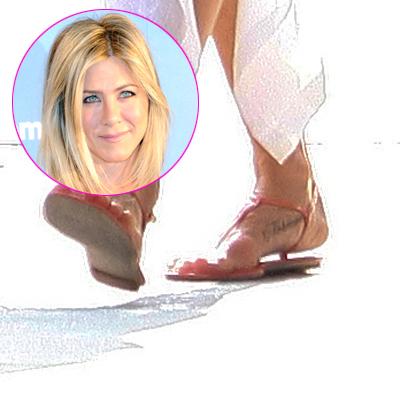 by RadarOnline.com Staff
First, Jennifer Aniston is accused of stealing her new boyfriend away from his live in girlfriend and now.... she's gotten a tattoo!
However, it's not too terribly rock and roll.
When Jen revealed her first tattoo, all bets were on it being the name of her new beau, Justin Theroux, but now RadarOnline.com can report the marking simply reads 'Norman'.
The 42-year-old actress had the name penned on the inside of her foot in memory of her beloved Welsh corgi-terrier, who died on May 15 2011.
Article continues below advertisement
Aniston reportedly got teary as she discussed the topic with host, James Lipton, while filming an episode of Inside the Actors Studio, which will air later this month.
Theroux, 39 - who is heavily tattooed himself - was in the audience to support her.
The pair have been wearing matching gold rings since they started dating in May.
Despite the controversy surrounding their getting together, both insist that Theroux ended his longtime relationship with girlfriend, costume designer, Heidi Bivens, 35, shortly BEFORE starting dating.