Jennifer Aniston: Another Love Triangle?!?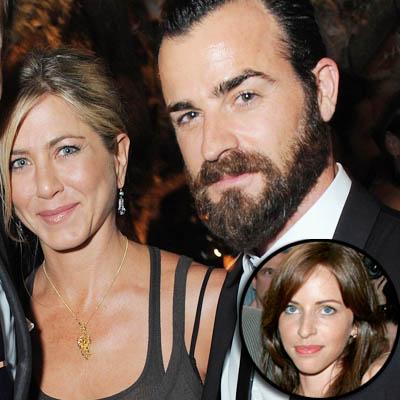 by RadarOnline.com Staff
Did Jennifer Aniston pull an Angelina Jolie on Heidi Bivens?
Aniston, who Brad Pitt famously left to be with his Mr. and Mrs.Smith costar, is now reportedly at the center of another love triangle, and this time it looks like it's her manicured hands in the cookie jar.
According to the New York Post's Page 6, costume designer Heidi Bivens has moved out of the New York home she shared with actor Justin Theroux, her beau of 14 years, in the wake of reports he and Aniston, co-stars in the film Wanderlust, were all over one another at an MTV Movie Awards bash at West Hollywood's trendy SoHo House.
Article continues below advertisement
Theroux, 39, and Aniston, 42, "started hooking up on set" last autumn while shooting the film, a source told US. "He had been trying to leave her for a while. He broke it off for good in March."
Bivens has remained mum, but her camp confirms she moved out of the 39-year-old actor's place.
"Heidi and Justin have been together for 14 years," Bivens' rep told the NY Post. "They met when she was 20 years old and he 24, and yes, she just moved out of their home last weekend.