Exclusive
VIDEO: Jennifer Aniston Gets Groped In New Movie Trailer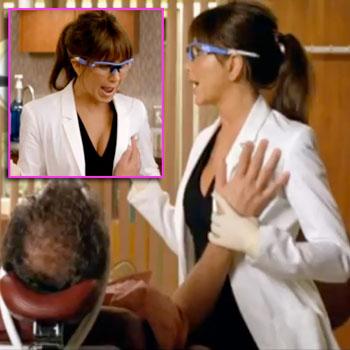 RadarOnline.com Staff Reporter
Jennifer Aniston enjoys the touch of a man's hand — even if he's passed out!
Aniston's character in the new comedy Horrible Bosses is a sex-driven dentist who continuously takes advantage of her patients while they're heavily sedated and under anesthesia.
You can watch the movie's newest trailer on RadarOnline.com and be sure to catch Aniston groping her own breasts with a male patient's hand at about the 1:10 mark.
Article continues below advertisement
Usually known for her 'girl-next-door' type roles, Aniston ups the ante in this racy new comedy by getting raunchy with a banana, a popsicle and a hot dog while dressed in sexy black lingerie — not to mention a reported nude scene!
The film opens nationwide July 8.
Will you be racing to the theater to see more of Aniston than you ever have before?