PHOTOS & VIDEO: Jennifer Aniston Gets Racy & Raunchy In New Role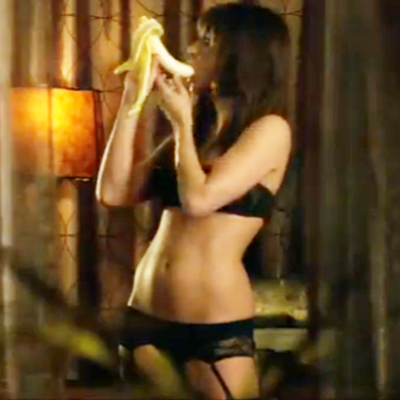 RadarOnline.com Staff Reporter
Looks like Jennifer Aniston has a new 'friend' -- Mr. Banana!
RadarOnline.com has obtained the shocking images from Aniston's new movie Horrible Bosses, in which the star provocatively eats a banana and hot dog while dressed in racy black lingerie. Watch the trailer below.
Another scene shows Jen seductively sucking on a popsicle.
In the film, Aniston plays a sex starved dentist and also ditches her trademark light blonde locks for a darker do.
Article continues below advertisement
Directed by Seth Gordon, the film centers on three bosses Aniston, Colin Farrell and Kevin Spacey and plans by their workers Jason Bateman, Jason Sudekis and Charlie Day to kill them.
In one scene Aniston, is seen spraying her assistant's private parts with water while making a crude remark.
It has been reported that the 42-year-old former Friends star has done a nude scene in the movie, but that no decision has been made whether to leave it in the final cut yet.
Aniston previously bared all in The Break-Up, but this looks like it will be her most explicit role to date as she apparrently seeks to shed her good girl image.
The actress is changing up her personal life too. She is moving to New York from Los Angeles having just purchased two luxury apartments in The Big Apple.
Aniston recently put her Beverly Hills home on the market for $32 million.
Horrible Bosses opens on July 8.