Jennifer Aniston On Age, Kids, Relationships (No, She's Not Hitched)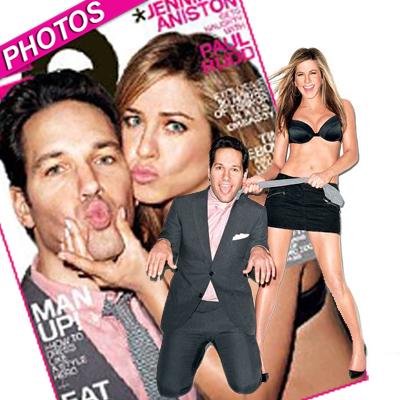 Jennifer Aniston, appearing alongside Wanderlust co-star Paul Rudd on the cover on the new GQ, says that while she's enjoying her smoke-free 40s, don't put her down on the baby registry just yet.
Aniston, who just turned 43, said, "My 40s are great! Oh, my God, my 30s blew! 40s are great. Well, I recently quit smoking, and you do put on some extra pounds! It makes a difference, especially if you're not 20."
Article continues below advertisement
Asked of she's keen on bringing any little ones into the world, with her life and career where she wants them to be, Aniston said, "I think people maybe want me to have a kid now. I still kind of go with, if it happens, it happens.
"I'm calm and peaceful with whatever the plan is," the Friends star, named the Sexiest Woman Alive in 2011 last year, continued. "It's not something where I'm going, 'I gotta have a kid!'
"I'm drawing the line on the children conversation. I'm not having triplets. Not having twins. Nor am I having one baby. I did not elope … You heard it here. I'm not knocked up now."
The actress also got in-depth about her relationship with the hunky actor she met filing her upcoming movie Wanderlust, Justin Theroux.
"It's a growing, literally living thing," she said. "There's going to be growing pains, there's going to be awkward moments -- your lanky phase, your pimpled phase. I think that's the beauty of a relationship -- but if the road starts to diverge and one person is growing this way and the other is growing that way ...