Happy Birthday Jennifer Aniston!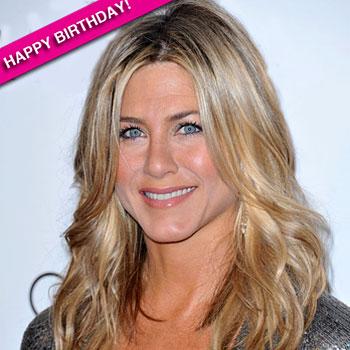 Jen Aniston turns 43 today, but you wouldn't know it by looking at her. The actress who was recently named the sexiest woman of all time works hard to maintain the body of someone much younger.
"I work out almost every day, at least five or six days a week," she told InStyle. "I do 40 minutes of cardio: spinning, running, the elliptical, or a combination of all three. Then I do Pilates one day a week, and I do yoga in addition to that, three days a week. I try to mix it up.
Article continues below advertisement
"I take 8 pound weights with me whenever I'm staying in a hotel." she added. "It's always good to do arm exercises when you're watching television or talking on the phone. I also love to stretch before I go to bed, and usually throw in a couple of sit-ups."
But Jen doesn't consider any of this work. She loves exercise, and says she feels extremely happy and lucky these days.
Boyfriend Justin Theroux obviously has more than a little to do with that. The two of them have been inseparable for more than a year, and the movie where they met, Wanderlust, opens February 24.