Jennifer Aniston: 'I'm Obsessed With Laser Porn'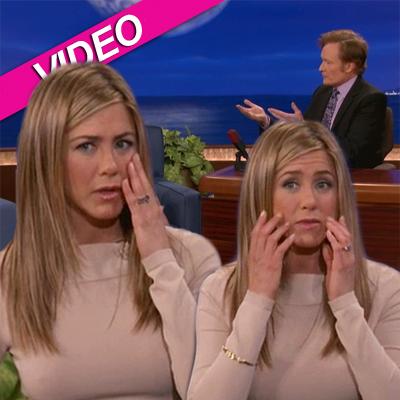 Jennifer Aniston, appearing on Conan O' Brien Wednesday to spread the word about her new flick Wanderlust, opened up about getting her star on the Hollywood Walk of Fame and her fascination with skin care treatments, and we've got all the details for you.
Earlier in the day, the Friends alum celebrated a special show biz feat, as her star was unveiled off Vine Street.
"It was pretty surreal, wild," Aniston said. "I'm next to Reese Witherspoon, right next to Reese, my dear friend -- we'll get walked on right next to each other!"
Article continues below advertisement
The bright-eyed beauty -- flanked by her boyfriend Justin Theroux and Just Go With It co-star Adam Sandler during Wednesday's ceremony -- described one of the more ironic nuances of Hollywood immortality.
"You get down and touch the ground ... but that shouldn't be called the walk of fame, it should be called the walk of shame -- because you're on all fours on Hollywood Boulevard!" Aniston joked.
Article continues below advertisement
Jennifer Aniston: 'There's A Lot Of Nudity In Wanderlust!'
Aniston said, "I did this thing called like, a peel. It's extremely intense -- you don't realize you look like a battered burn victim for a week -- and then the dead skin on your face just kind of falls off ... for eight days.
"It was horrifying."
"I hope you saved the face afterward," Conan joked. "That is eBay gold!"