Exclusive
Chris Brown: I've Done Nothing Wrong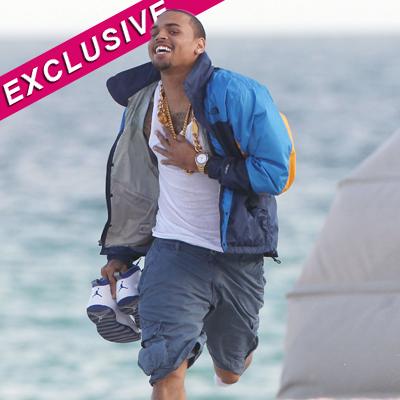 By Jen Heger - RadarOnline.com Legal Editor
As law enforcement in Miami, Florida are investigating claims that Chris Brown allegedly stole a $500 iPhone, the Grammy award winning singer is telling close friends and associates that he has done nothing wrong, and is hopeful that a decision not to prosecute him could be made as early as Friday, RadarOnline.com is exclusively reporting
As we previously reported, Brown has been accused of stealing Christal Spann's iPhone after she says she snapped a pic of the singer sitting in the back of a Bentley. Brown allegedly snatched the phone, and said, "b*tch, you're not gonna put that on the Internet," and then drove off.
Article continues below advertisement
"Chris is telling friends that he has done nothing wrong," a source close to the situation tells RadarOnline.com. "Chris is hopeful that the evidence and the true facts of the case will result in no charges being made against him. Chris is letting his lawyer, Mark Geragos, deal with the Florida State's Attorney's Office. Chris is saying that a decision about whether or not charges will be filed against him could be decided and formally announced as early as Friday. He will do whatever his attorney asks him to do. He is no longer in the Miami, but if he needs to return for any reason, he certainly will. Chris has nothing to hide."
If Brown is arrested, it would be extremely likely that the Los Angeles District Attorney's Office will seek to revoke his probation for his no contest plea of battery of his then-girlfriend, Rihanna.
"Chris wouldn't need to be convicted in the Miami case to cause problems with his probation, just charged," the source tells RadarOnline.com. "The conditions of his felony probation are very, very strict. Chris must obey all laws and not be arrested for any other crimes. This could be a huge nightmare for his probation if he is arrested and charged.
Article continues below advertisement
"Make no mistake, Chris is taking this very seriously. He knows that one arrest could unleash a wave of new legal problems for him because he is still on felony probation."
"My prosecutors are currently speaking with witnesses and reviewing all of the materials supplied by Miami Beach Police. Only after these reviews have been completed would any type of action be considered or taken. This is the basic process that every criminal case in Miami-Dade County undergoes," a spokesperson for the Florida State Attorney's Office said in a statement on Thursday.