Jay-Z 'Deeply Disappointed' That Rihanna Is Hooking Up With Chris Brown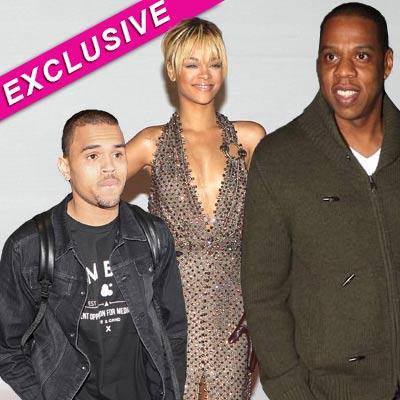 By Jen Heger - RadarOnline.com Legal Editor
With Chris Brown and Rihanna collaborating on duets together and secretly hooking up, the Barbadian beauty's mentor, and very close friend, Jay-Z, is extremely upset that she is spending time with the man who left her badly beaten three years ago, RadarOnline.com is exclusively reporting.
As we previously reported, despite Chris dating wanna-be model, Karrueche Tran, the Grammy Award winner has been having secret rendezvous with RiRi. Tran knows that her boyfriend is straying because she doesn't question him about it and knows that if she did, the relationship would probably end.
Article continues below advertisement
In the days after the horrific beating Rihanna endured by her then boyfriend, she sought refuge and advice with her long-time mentor, Jay-Z.
"Jay was absolutely disgusted by what Chris did to Rihanna. Jay doesn't understand how a man could ever lay hands on a woman; it just goes against who he is and about. Chris is absolutely dead to Jay, he wants nothing to do with him ever. Now that Rihanna is hooking up with Chris and recording songs with him, Jay is deeply disappointed in her actions. He can't fathom why Rihanna is doing the things she is doing. He understands the need for forgiveness, but he is adamant that Rihanna shouldn't forget what Chris did to her. Jay wonders what kind of message this is sending to Rihanna's young female fans. Rihanna knows how Jay feels about Chris, but she doesn't care, she is going to do what she wants," a source close to the situation tells us.
Listen To Rihanna & Chris Brown's New Single (WARNING: Explicit Lyrics)
Brown and RiRi have released two songs, which features both of them -- her song Birthday Cake and his Turn Up the Music.
Brown's first line in Birthday Cake?
Surf's Up For Super-Sexy Rihanna
"Girl I wanna f*** you right now. Been a long time, I've been missing your body," the R&B hit-maker sings.
Now that Jay-Z is a proud daddy to daughter, Blue Ivy, with wife Beyoncé, "he is even more protective of the women in his life. Jay has told Rihanna he will never give his blessing for what she is doing with Chris. He has told her, this isn't going to end well, it never does. In Jay's opinion, Chris has rage issues that he doesn't think have been dealt with," the insider says.