Chelsea Handler To LeAnn Rimes: 'I Know That You've Seen Me Talking Sh*t About You'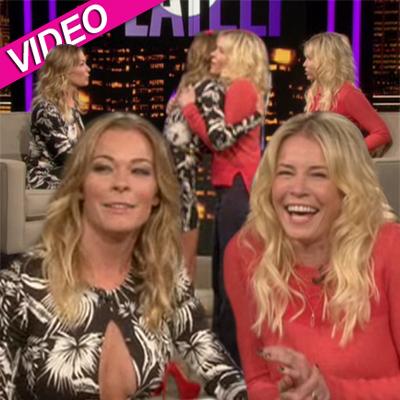 Tabloid favorite LeAnn Rimes faced off with pop culture assassin Chelsea Handler on Chelsea Lately Thursday night, and the interview was about what we expected ... tense, awkward and uncomfortable!
Chelsea wasted little time establishing the tone, telling Rimes, "Welcome to my show: I know that you've seen me talking sh*t about you on the show."
Rimes responded, "Absolutely. I have, which is more why I wanted to come on," adding her recollections of Chelsea's nightly jokes about her divorce with dancer Dean Sheremet.
Article continues below advertisement
Article continues below advertisement
"I am on the damn beach, for God's sake ... they follow us everywhere, it's quite annoying," Rimes said, adding speculation about her figure is erroneously based on what people remember for her as a pudgy child.
Chelsea Handler Breaks Up With Her Hotelier Beau Andre Balazs
"I was fat ... and I grew up," Rimes said.
Rimes was on to promote her new album, Ladies and Gentlemen, in which she will cover all songs originally sung by men.