LeAnn Rimes Church Style; Skinny Jeans And Sky High Heels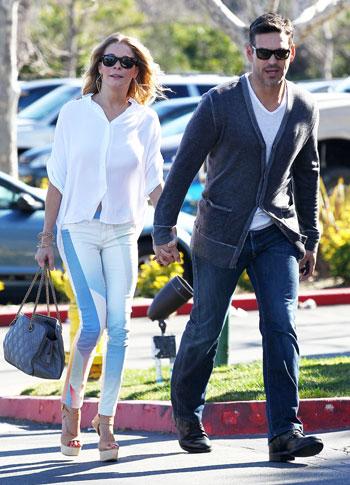 She's rarely seen in anything but a bikini but LeAnn Rimes packed up her two piece and swapped it for some super skinny jeans and towering heels all for a trip to church on Sunday.
The singer - dressed all in white - tore herself away from the beach where she has been relaxing with friends over the weekend to go on the religious date with her husband Eddie Cibrian.
The pair held hands as they arrived at the Life Change Community Church in Agoura Hills for a sermon from Pastor Brad Johnson.
Article continues below advertisement
On his website Johnson says at his church "everybody is welcomed, nobody's perfect."
And it seemed LeAnn and Eddie weren't the only celebrities confessing their sins or giving thanks as Kim and Kourtney Kardashian also turned up.
After the service they took to their Twitter pages with LeAnn thanking Johnson for his service, which was held at a nearby Sheraton Hotel.
"Thank you a great service @brad_s_johnson you made me cry," she wrote before then sending a message to Kim telling her how great it was to see her.