With Friends Like That! Jennifer Aniston Slams Chelsea Handler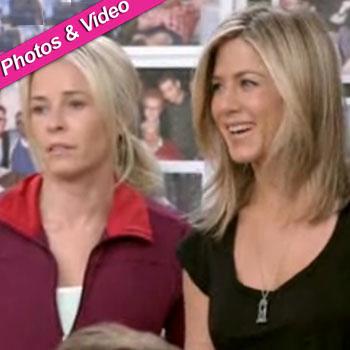 Jennifer Aniston and Chelsea Handler have always professed to be the best of Friends, but is there a deep dark rivalry lurking behind the smiles?
Seems like it, if you believe an upcoming episode of Handler's late night show, After Lately. But, we don't think the two will be de-friending each other on Facebook any time soon — as Aniston's sniping is all in the name of comedy.
In the hilarious skit, which you can watch here on RadarOnline.com, Aniston rips Handler in front of her writing team for her lack of looks, poor hygiene, and gasp! Lack of comedy skills.
Article continues below advertisement
When Handler stops mid conversation to take a call, Aniston asks the team if her "friend" is: "gossiping about more successful people that are better-looking than her? Putting her name on another dumb book to make the world an even dumber place?"
Going on to mimic her: "'Hi, I'm Chelsea. I really think that everything I say is funny.' You know what I mean? It's a shock that she really still has her own show."
Then, Aniston hits below the belt, ragging on Handler for her shower shy ways: "And then her hygiene... have you noticed this? Honestly, when we were in Cabo, she never showered! She would be like, 'What? I went in the pool'. It's gross!"
And, hitting her stride, Aniston references Joan Rivers' latest jibe that Handler slept her way to the top: "'The little one that she slept with to get the gig? He doesn't even work for the network anymore," she quips.
Article continues below advertisement
As RadarOnline.com previously reported, Joan appeared on Howard Stern's Sirius XM radio show on Tuesday morning with her daughter Melissa Rivers and attacked her fellow E! Network comedian.
"Number one, the girl made it on her back f**king the president, we all know that, of the network. Number two, she's fine, she's ordinary. She's not a genius," Joan told Howard, referring to Chelsea's past relationship with E! President Ted Harbert.
"She's an ordinary girl that was f**king somebody high up in the industry and they gave her a break and she's doing okay."
Rewind to Chelsea's appearance on Howard's show the day before when the 36-year-old said, "Joan Rivers? What the f**k do I care about Joan Rivers? I don't think about her ever."
You can watch Aniston's hilarious onslaught right here on RadarOnline.com.
RELATED STORIES:
Jennifer Aniston Buying Magnificent $21 Million Mansion: Take A Peek Inside!
Jennifer Aniston Was Advised To Get 'Sperm Donation' From Brad Pitt Post Split
Chelsea Handler Has A 'New Guy'
Chelsea Handler Breaks Up With Her Hotelier Beau Andre Balazs