Amy Duggar And Mentor Shrug Off Extortion Plot With On Stage Performance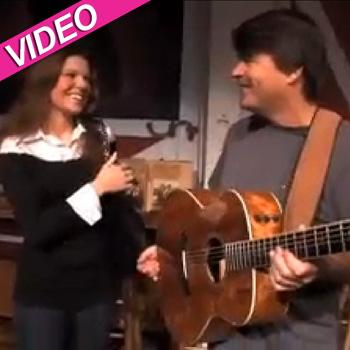 Article continues below advertisement
"I love to sing, I think it's a gift, but I don't know if that would start a career, I've been working in Nashville in the music thing for at least 3 years," Amy says.
As RadarOnline.com previously reported, a woman named Teresa Hunt was arrested and charged with extortion after she pitched what she deemed were "incriminating and damning" photos of Amy and James engaged in a relationship together to various media outlets, including RadarOnline.com.
The woman then allegedly reached out to Discovery Communications, parent company of the network TLC, which airs the Duggar family's reality show, to pay her $10,000 or cancel the family show to keep her from releasing the "shocking photos" of Amy, a first cousin of the family.
RadarOnline.com posted the photos that she allegedly thought were worth $10,000 and James said: "As you can tell from the photos, they are anything but incriminating."
MORE ON:
19 Kids and Counting
Article continues below advertisement
"I wanted the world to see the photos so that there would be no question left in anyone's mind about any sort of relationship other than a platonic, working friendship between Amy and I," he told RadarOnline.com in an exclusive interview.
In the episode the entire Duggar family, including Jim Bob and Michelle, are in the audience waiting for Amy to perform, and she talks about how much family support she gets.
"My Grandma and Mom are biggest fans," Amy said. "They are the ones that have always been there for me, even when I get discouraged."
James is now friends with the Duggars and said they have a good time together. "It is always fun to have Mary and Deanna here and Amy's here quite a bit so we have a lot of fun."
Meanwhile, Amy said that James has become a mentor for her. He's "very talented he's definitely shown me different ideas that you can do, I look up to him, any advice he can give me I take," she said.