Exclusive
Duggar Family Extortion Target Speaks Out: 'We Enjoyed A Good Laugh Over It'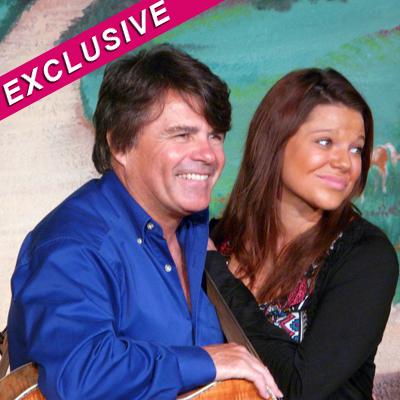 Article continues below advertisement
That older man is James Garrett, 56, who headlines a John Denver tribute show in Branson, Missouri, and although Amy sings with him sometimes on stage, he adamantly denies any type of affair between the two and says the photos showed nothing more than their platonic relationship.
It's A Boy -- TLC's Duggars Expecting First Grandson!
"On January 6 I got an urgent message from Amy Duggar, so I called her back and she explained that someone was trying to extort the Duggar family and the Discovery Channel for $10,000," James told RadarOnline.com in an exclusive interview.
"She went on to say that it involved racy photos of the two of us. We actually enjoyed a good laugh because we obviously knew they didn't exist! But it was still a bit unsettling to us though."
Not only was James shocked that someone was trying to use him to make money, but he was even more surprised to find out who the culprit was.
"It never occurred to me that it would not only be someone I knew, but someone I had worked with closely for two years. Teresa Hunt was my personal photographer, providing pictures for my billboards, magazine ads, etc," James said.
Article continues below advertisement
"Amy has been singing in my shows for four years and this isn't the first time someone has been jealous of our friendship. However, this obviously takes it to a whole new level."
RadarOnline.com was first to report of the extortion and was contacted by Teresa to buy the photographs — which were merely harmless snaps rather than incriminating, damning photos — and we reviewed the pictures but did not purchase them. RadarOnline.com had no knowledge that the woman was trying to extort TLC.
Michelle Duggar's Miscarriage Tragedy To Be Aired On 19 Kids and Counting
"It was crushing for me because I felt responsible. It was a friend of mine that the Duggars didn't even know," James said.
"It's interesting to note that several members of the Duggar family have apologized to me for all this craziness. That says volumes about their generosity and kindness, because they had absolutely nothing to do with it."
Article continues below advertisement
It's been nearly two weeks since Teresa was arrested, but James says the incident has changed him forever.
"I can't really figure this out. I often wonder what she was thinking when she dropped that letter in the mailbox…a letter that was to change her life forever as it has changed all of us involved," James told RadarOnline.com.
"I've really put my guard up since this all came to light. There's no doubt in my mind that she meant business when it came to getting the money.
RadarOnline.com obtained a statement from Amy Duggar and she vehemently denies the woman's claims about her relationship with the musician: "It's totally untrue. He is a longtime family friend who has always been supportive of my music career. He's a good Christian and it's upsetting that his generosity has been exploited like this."
"The pictures were of no substance of all," Jim Bob Duggar said Tuesday on the Today Show. "I think she had some mental issues...so we pray that she can get her life straightened out."
Article continues below advertisement