American Idol: 14 Of Top 24 Remaining Contestants Revealed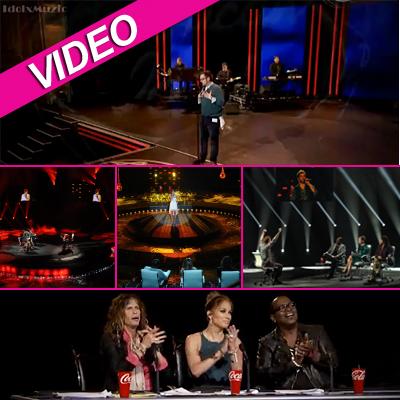 The herd is rapidly thinning on this season's edition of American Idol, as judges Randy Jackson, Jennifer Lopez and Steven Tyler trimmed the remaining 42 contestants down to 24 on Wednesday's fast and furious edition of the Fox hit, which was taped at the Wynn Las Vegas resort.
Of the 24 hopefuls left, only 14 were announced, setting up some suspense for Thursday's show as to who the 10 singers left will be.
Article continues below advertisement
Those confirmed for the top 24 include: Jen Hirsh, Creighton Fraker, Joshua Ledet, Haley Johnsen, Elise Testone, Reed Grimm, Erika Van Pelt, Chelsea Sorrell, Baylie Brown, Heejun Han, Jessica Sanchez, Phil Phillips, Colton Dixon and Brielle Von Hugel.
Cuts on Wednesday's episode included: Lauren Gray, Blaire Sieber, Naomi Gillier, Neco Starr, Clayton Farhat, River St. James, Caleb Johnson and Richie Law.
The show ended in its usual suspenseful fashion in recent weeks, leaving viewers wondering the fate of emotional soul singer Adam Brock, whose status was left a mystery as credits rolled.
"I love the way you sing, but at the same time, you have to find out who you are," Lopez told Brock, who delivered a pair of spirited performances in Georgia on My Mind and You Don't Know Me.
Brock, asked to assess himself by the judges, said, "I think that guy tried to sing his heart out every time he stepped on the stage," as tears ran down his face.
Article continues below advertisement
He added his life's mission is to sing.
"It's where my joy comes from," Brock said.
Watch the video on RadarOnline.com
"It's hard to say goodbye at this point in the game," J.Lo said, as the show wound down, leaving Brock's fate up in the air.
We'll find out whether he made the cut when American Idol returns Thursday at 8/7c on Fox.