Whitney Houston 'Would Have Been Considered' To Be Next X Factor Judge, Says L.A. Reid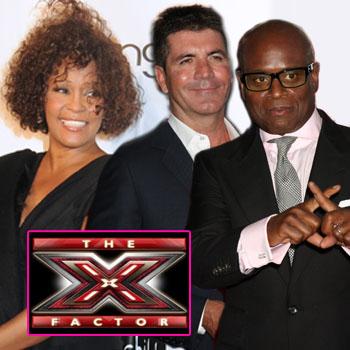 By Debbie Emery - RadarOnline.com Reporter
Could Whitney Houston have been the next X Factor judge? Yes!
Before her tragic death nine days ago, the 48-year-old singer expressed interest in the reality TV role, and the two remaining stars of the show revealed on Tuesday that the diva would definitely have been a frontrunner if she was still alive.
"We love Whitney and we would have certainly considered it," said L.A. Reid in conference call with the media, but added that negotiations were very much in the initial phase when Houston passed away at the Beverly Hilton on February 11.
Article continues below advertisement
"The truth is it never quite came to that, we never actually had meetings about it," the X Factor judge explained. "We are all huge Whitney fans and we are sad about the loss but we didn't really get that far."
While sadly the I Will Always Love You singer will never sit in one of the two judge's seats that are now empty since Paula Abdul and Nicole Scherzinger were fired last month, her presence will certainly be felt for the lifetime of the show.
When asked if The X Factor will be doing a tribute to the late diva, Reid replied: "I think that is a great idea, I was going to recommend that we do a Whitney segment because her music is so amazing and so generational.
"It is such a challenge for singers because the songs are well performed," he said.
The second year judge was quickly cut off by reality TV veteran Simon Cowell though, who explained that because of scheduling reasons it will be too late to do by the time The X Factor hits the airwaves.
Article continues below advertisement
"I have a hunch that there will be a Whitney tribute on The Voice and on Idol before us, in which case if we decide to do it I think we have to do it in a different way," he said.
"But the important thing is we're going to continually pay tribute to Whitney on the show because we love her and we love her songs. There probably won't ever be a season when there's not a Whitney song. They are timeless."
Reid echoed his sentiments: "When you have great music performed by great artists like Whitney Houston, it stands the test of time. It's not something we have to perpetuate, it happens on its own because of the quality of the music and the artist who's singing it."
Cowell completed the homage to Houston by complimenting her phenomenal talent.
"She's one of those rare artists where her songs literally are timeless. These songs are going to sound as good in 50 years time as they do now.