Exclusive
Paula Abdul 'Not OK' With X Factor Firing, Was 'Blindsided'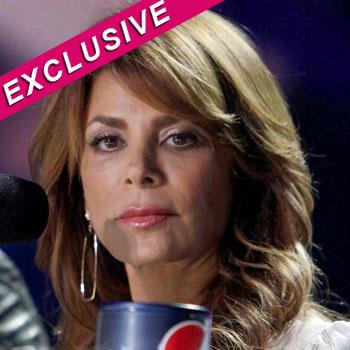 Paula Abdul is not as "okay" with her sudden firing from the X Factor as she wants us to believe, RadarOnline.com is exclusively reporting.
According to a source close to the ex-singer/dancer, the soon to be 50-year-old found out a couple weeks ago from Steve Jones, whom she's close to, that he would probably not be coming back and although she found it hard to believe, he told her at the time that he heard SHE might not be returning either.
Article continues below advertisement
"Paula loved doing the show and was blindsided by the news," the source tells RadarOnline.com. "Everyone is afraid this is going to send her into a deep depression and cause her to revisit some of her old destructive behavior.
"After talking to Steve, Paula phoned Simon Cowell to ask him if the rumors were true, and he admitted that the powers that be at Fox didn't think she was 'edgy' enough to be brought back, but that he was working on trying to convince them to keep her on. And he told her if by some twist of fate he couldn't save her job, he would line something else up for her soon.
"It was actually Simon's lawyer who phoned her two days ago to tell her they made the decision to axe her, and although part of her expected the news, she was shocked," the source says.
"She loved doing the show and never thought Simon would let her go…again…this makes twice that he's booted her from the judging chair – once on Idol and now X Factor – and she says she doesn't know if she can trust him again even if he does come up with another project for her.
Article continues below advertisement
"Paula heard they want to replace her and Nicole with Mariah and Beyonce," says the source, "and she didn't see any difference between her and them – unless you consider the fact they are both a lot younger and they both just became new moms.
"Paula will be really upset if one of those women ends up filing her chair, because neither woman has ever been on a panel and she doesn't know what makes Simon, or anyone else, think someone inexperienced like that will help boost ratings.