7-Year-Old Girl Fights Off Kidnapper: See The Shocking Video!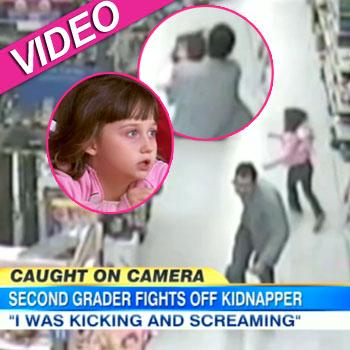 By Amber Goodhand - Radar Reporter
Someone listened during their Stranger Danger safety classes, and it's 7-year-old Brittney Baxter who fought off a would-be kidnapper in a Bremen, Georgia, Walmart — and RadarOnline.com has the shocking video footage.
Brittney and her mother were shopping in the department store on Wednesday when the two got separated in different sections, and 25-year-old Thomas A. Woods was caught on camera trying to grab the young girl, who tirelessly kicked and screamed until he let her go.
Article continues below advertisement
Good Morning America spoke with the brave young girl who said, "I was screaming and kicking and trying to get away and he put his hand over my mouth."
The second-grader explained, "He just dropped me and went and ran off."
Luckily, authorities were able to track down Woods when surveillance cameras outside the Walmart caught him getting into his car and he was arrested an hour later about 10 miles away.
Woods adamantly denied it was him in the store, telling reporters, "I didn't bother nobody, I was never there."
But he was charged with attempted kidnapping and is currently being held at the Haralson County Jail.
"I'm very proud of her," Brittney's father, Randall Baxter, said. "I just thank the Lord that she got away."
Brittney's mother, Georgeann Baxter, couldn't be more proud of her daughter for doing the right thing, saying, "Always scream, try to scream and kick as hard as you can and go get someone you can trust."
Woods served four years for a 2004 voluntary manslaughter conviction and was just released from state prison in October.
Watch the video below: