Where Oscar Lives! The Mansions Where Stars Stash Their Academy Awards: Take A Peek Inside!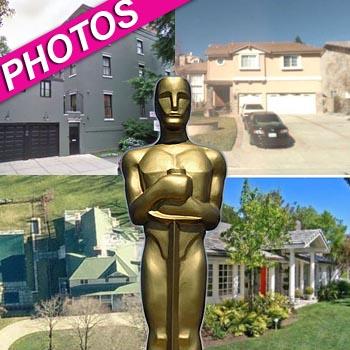 By Debbie Emery - RadarOnline.com Reporter
With the Academy Awards less than two weeks away, nominees are frantically picking out red carpet gowns, going on crash diets, and picking that perfect spot in their home to showcase Oscar if they win, and RadarOnline.com has photos inside the front-runner's homes where the golden statues may soon reside.
Nominated for War Horse, producer and director Steven Spielberg has enough room to keep a whole herd of ponies at his homes in the Pacific Palisades, the Hamptons and Malibu. The three-time Oscar winner has owned most of his homes for more than 20 years, reported Zillow.com, including a 7,000-square foot beach house in Malibu that has 7 bedrooms, 10 bathrooms and was bought by the E.T. creator for $3,375,033 in 1989.
Article continues below advertisement
With his revolving door of girlfriends, George Clooney needs the ultimate bachelor pad. Along with his romantic Italian villa on the shores of Lake Como, the Best Actor nominee for The Descendents and Best Writing, and Adapted Screen Play nominee for The Ides of March also owns a spacious estate in Studio City, near Los Angeles. The 8-bedroom mock-Tudor house has a pool and tennis courts, and a three-acre nature reserve.
Forgetting Sarah Marshall star Jonah Hill has a heap of hilarious roles under his belt, as well as directing, writing and producing credits, but it was his performance alongside fellow nominee Brad Pitt in Moneyball that earned him an invitation to Hollywood's biggest night. Jonah's home is a little more humble than many of the names on the guest list, as he currently lives in a single-story ranch-style house in the Los Angeles suburb of Tarzana. Listed by the realtor as a "natural entertainer's estate," it features party-friendly amenities like a pool and spa, endless patios, tennis and bocce ball court.
Article continues below advertisement
Glenn Close is no stranger to taking awards home! Born in Greenwich, Connecticut, the Emmy, Tony and Golden Globe-award winning actress still spends most of her time on the east coast either in Manhattan or her beautiful Bedford Hills, New York estate, which is north of the city. Set on 10 acres of lush greenery, the rural retreat is the perfect place to escape from the bright lights of Hollywood, despite A-list celebs including Martha Stewart, Ralph Lauren, Michael Douglas and Catherine Zeta-Jones being among her neighbors.
Up until her role in The Help, nominee Viola Davis was better known by theatre buffs than movie goers. The Doubt star bought a down-to-earth home with her husband in Granada Hills, California, in 2005. With 5-bedrooms, 5-baths and 3,917 square feet of living space, it is a lot more homely than many of her competitors' palatial mansions.
Michelle Williams portrayed a piece of Hollywood history in My Week With Marilyn, but in real life she's a New Yorker at heart. The Golden Globe winner lives with daughter Matilda Rose in a 4-floor Brooklyn home that she bought with her ex-fiancé, the late actor Heath Ledger, in 2005 for a reported $3.6 million.