Michelle Williams Gets Teary-Eyed Talking About Heath Ledger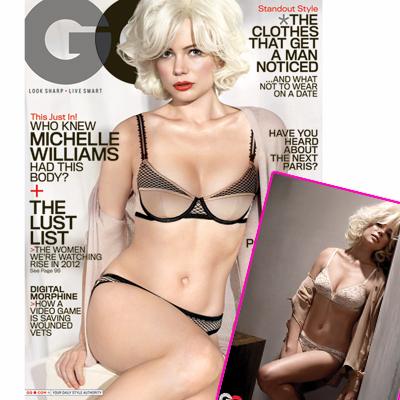 By Neil Woulfe - Radar Senior News Director
Golden Globe winner Michelle Williams strips down and, in an emotional interview, opens up about her relationship with the late Heath Ledger in the February issue of GQ.
On the cover, Williams -- currently basking in critical acclaim for her dazzling role in My Week With Marilyn -- dons a blonde wig and shows a lot of skin in her bra and panties to channel the Some Like It Hot bombshell.
Article continues below advertisement
PHOTO: Michelle Williams: Racy GQ Cover and Spread
In the article, the notoriously private Williams, 31, candidly talks with writer Chris Heath about her relationship with the late actor, with whom she had a child with -- Matilda, now 6.
Williams speaks about why she thinks she and Ledger were drawn to each other.
"There's an answer that I know," she says, "but I don't want to say." The writer notes she talks around this, not-saying for a while, then says, "Our initial meeting, the circumstances of how we first met, were cosmic or something."
The article notes that Williams and Ledger fell into a relationship during the filming of 2005's Brokeback Mountain, in which they played a married couple. Soon, she was pregnant. "Yeah, a lot of things happened at once," she says. "It's a bit like: We had a lot of things to do, because we didn't have a lot of time, or something."
The couple never married, and the writer asks Williams if she thought she and Ledger would end up together.
Article continues below advertisement
"That would make me way too sad to answer," William responds quickly. The writer says he quickly asked another question to change the subject.
The writer notes he said "something completely di­fferent, hoping that if I say it fast enough these new words will chase the old words away from where they are hanging in the air between us, and maybe she will let me pretend that it was something I never said."
"No, no," Williams responds, and the writer says he can see tears forming in her eyes. The writer says he thinks she means that she doesn't want to answer any more questions about anything; he says he "mutter(ed) some kind of apology under (his) breath."
Then he writes, "she is just trying to stop my new question. She has something to tell me."
In the article, the writer says '"No," she says. "I said it would make me too sad to answer but it's also…"—and she nods even as her voice breaks once more with tears—"…one of my favorite things to imagine." And through the tears, a beaming, almost beatific smile stretches room-wide across her face. "It's actually one of my favorite places to visit."'