Super Skinny Snooki Shows Off Mega Slimmed Down Face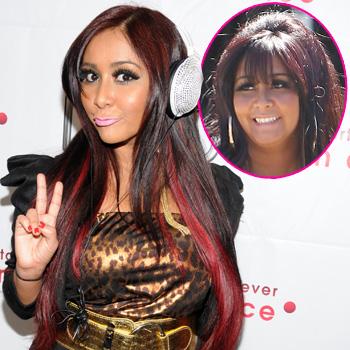 Snooki's waistline isn't the only part of her body that is dwindling away.
The Jersey Shore star stepped out to a promotional event in Las Vegas on Tuesday, appearing nothing like her former self and looking like she had lost a ton of weight in her face – and RadarOnline.com has the photos to prove it.
At an event at the Consumer Electronics Show in Sin City promoting iHip headphones, Snooki, who was wearing a gaudy black and gold outfit, shocked convention goers as she was posing for photos – looking nothing like the pint-sized star of season one's Jersey Shore.
Article continues below advertisement
Instead of all-cheeks, Snooki was all lips!
Since revealing all of her slim-down secrets earlier this year, the Jersey Shore star has continued to lose more and more weight.
As RadarOnline.com previously reported, the pint-size reality star has talked openly of her past weight struggles.
The 4-foot-9 reality star once confessed to an eating disorder, which saw her weight plummet to just 80 lbs.
"In high school, I really wouldn't eat," Snooki told The Insider. "I would only have lunch, and I would only have salads.