Exclusive
Joran Van Der Sloot Begs His 'Guardian Angel' For More Money, Read His Handwritten Letter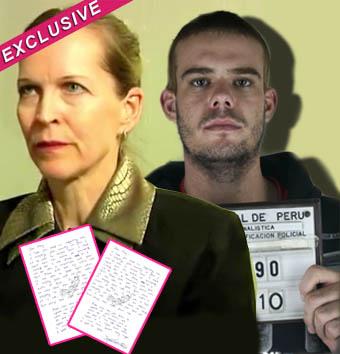 By Debbie Emery - RadarOnline.com Reporter
The depth of Joran van der Sloot's devious manipulative personality has been revealed first-hand in a letter written to the woman who has been paying his legal bills, RadarOnline.com can exclusively reveal.
In the handwritten mail, sent from Castro Castro prison in Lima, Peru to Mary Hamer of Lake City, Florida, the convicted killer begs her not to take any actions until he has found a way to call her.
Article continues below advertisement
EXCLUSIVE DOCUMENTS: Read Joran Van Der Sloot's Handwritten Letters To His 'Guardian Angel'
"I hope you keep supporting me," wrote van der Sloot, in the letter obtained exclusively by RadarOnline.com. "If everything goes according to plan I will be able to contact you soon."
The letter was sent after the 24-year-old Dutchman pleaded guilty and was sentenced to 28 years in jail for the May 2010 murder of Peruvian student Stephany Flores.
Article continues below advertisement
Later in his letter, Joran asked Mary for more money. "I need apart from the balance of $69,000 I need $1,000 for a new phone so I will be able to communicate with you again.
"Please don't take any action until we are able to speak again which if everything goes well will be within a couple of days.
"I beg you to hold on until that time so I can explain everything to you," wrote van der Sloot. "Please trust me, that's all I ask so I can prove that you have always been right about me."
As RadarOnline.com previously reported, van der Sloot confessed to the murder of Flores and was sentenced on January 13 for the brutal crime. Taking into consideration time served, the 24-year-old will be eligible for release in 2038.
Later in his handwritten letter he refers to his guilty plea, revealing: "What me and Jimenez did is the best, I now still have my appeal to a higher court, which is much more serious. Every lawyer I speak to agrees."
Article continues below advertisement
Van der Sloot goes on include a list of costs that the pair agreed to that Jimenez withdrew in his name.
The master manipulator, who is infamous for getting women to fall at his feet, signed off to 55-year-old Hamer with words of tenderness.
"P.S. I love you but what you are doing to Mr. Jimenez is not fair. Redacted stole over $80,000 of your and my money. Mr. Jimenez has everything documented."
In an exclusive e-mail to RadarOnline.com, Jimenez confirmed that the letters were written by van der Sloot, he went on to claim that he has returned the $75,000 to Hamer (she denies she has received it at time of this posting), and said his client is now upset with him.
"Joran is very upset with me for returning the money, I did it Monday. Mary Hamer asked me to return it to her after listening to Joran admit to his crime," the lawyer told RadarOnline.com.
"That upset him very much and he saw me as a traitor."
He claims that it was Joran's decision to ask Mary for the money, and that he simply verified that it went into his account and never said that it would lead to "additional freedom."