Casey Anthony's Parents React To Her Bizarre Video, Say They Worry For Her Safety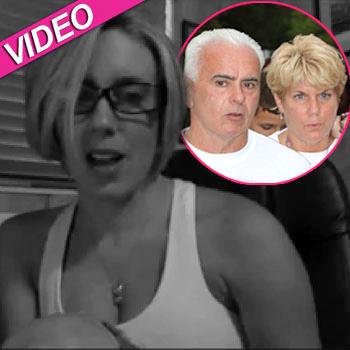 By Alexis Tereszcuk - RadarOnline.com Senior Reporter
Casey Anthony's bizarre video that she released on Thursday, where she rambles about her post-jail life for four minutes but never once mentions her daughter Caylee, has elicited a concerned response from her estranged parents.
They released a statement through their lawyer Mark Lippman in which they didn't mention Caylee either.
"Cindy and George were made aware of the video diary of their daughter this morning, January 5th 2012. They are concerned that the release of this video or any future videos could endanger their daughter. Cindy and George hope that Casey remains safe wherever she may be," the statement says.
Article continues below advertisement
In the video Casey is dressed in a cleavage revealing tank top with a short blonde hairdo and glasses and talks positively about the future -- but never once talks about her daughter whom her defense team claim drowned in the family pool in 2008.
Casey was tried and acquitted of Caylee's murder in 2011.
Her mother Cindy has been a vocal supporter of Casey, even excusing her odd behavior after Caylee went missing, and many critics felt like her changing testimony during the trial helped to get her daughter acquitted.
"I'm extremely excited that I'll be able to Skype and obviously keep a video log, take some pictures, and then I have something that I can finally call mine," Casey says in the video.
"It's been a long time since I've been able to call something mine and now I have something, even if it's as silly as saying I have a computer and a camera and a phone."
She notes that she paid for the computer, but that the camera was a gift.
Article continues below advertisement
Anthony -- who doesn't give any specifics about her location -- says she'll be there several more months until her probation for check fraud is completed.
"This has been such a blessing in so many ways," she says, adding "now I have someone to talk to, other than the poor dog which I've adopted."
When Casey talks about the past she is upbeat, but doesn't mention her daughter.
"It's just a little surreal how much things have changed since July, and how many things haven't changed," she says. "But the good thing is that things are starting to look up and things are starting to change in a good way. I just hope that things stay good and that they only get better."
Anthony wraps up the video by promising more videos to come.
"This is the first of many, and I'm looking forward to this," Anthony says. "It's a little scary, because I hate being on camera. But I need to conquer that fear at some point, and this is a good start."
However, one person who hopes there will be no more videos to come is Casey's prosecutor, Jeff Ashton.
The lawyer, who is now running for State Attorney, posted a disdainful message on his Facebook page: "Many of you have commented on the Video. I saw it ...just more narcissistic drivel. Not worth the time it takes to watch it."