Casey Anthony Resurfaces In Strange Video Diary: 'Things Are Starting To Look Up'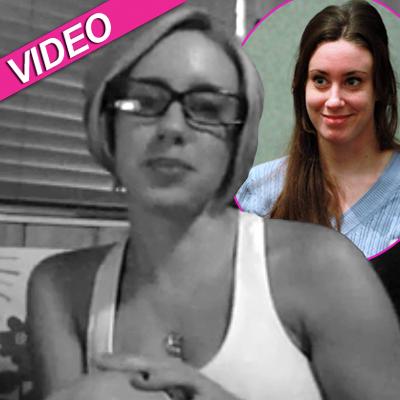 By Neil Woulfe - RadarOnline.com Senior News Director
Notorious 'Tot Mom' Casey Anthony -- whose trial for the death of her 2-year-old daughter Caylee made worldwide headlines last summer -- has resurfaced in a strange video diary just posted on YouTube.
In the black-and-white video, the usually dark-haired Anthony sports a blonde bob and wears funky black-framed glasses.
Anthony, 25, says she recorded the four minute, 19-second video on Thursday, October 13, 2011; it's not known why the video was only posted online now or who, in fact, posted it.
Article continues below advertisement
In the video, Anthony talks about how she's just beginning to "figure out" her new computer and says she's "liking it so far…"
"I'm extremely excited that I'll be able to Skype and obviously keep a video log, take some pictures, and then I have something that I can finally call mine," she says.
"It's been a long time since I've been able to call something mine and now I have something, even if it's as silly as saying I have a computer and a camera and a phone."
She notes that she paid for the computer, but that the camera was a gift.
Anthony -- who doesn't give any specifics about her location -- says she'll be there several more months until her probation for check fraud is completed.
"This has been such a blessing in so many ways," she says, adding "now I have someone to talk to, other than the poor dog, which I've adopted."
While Anthony never mentions Caylee in the video, she briefly reflected on the past.
MORE ON:
hollywood happenings
Article continues below advertisement
"It's just a little surreal how much things have changed since July, and how many things haven't changed," she says. "But the good thing is that things are starting to look up and things are starting to change in a good way. I just hope that things stay good and that they only get better."
Anthony wraps up the video by promising more posts.
Watch the video on Radaronline.com
"This is the first of many, and I'm looking forward to this," Anthony says. "It's a little scary, because I hate being on camera. But I need to conquer that fear at some point, and this is a good start."
As RadarOnline.com has previously reported, Anthony was charged with first degree murder in Caylee's death; the little girl was reported missing in June 2008 and her remains were found six months later.
On July 5, she was acquitted of murder, but convicted on four counts of perjury for lying to authorities.
She was released from jail on July 17 and eventually ordered back to Florida to serve a year's probation for an earlier check fraud conviction.