Casey Anthony Interview Being Shopped For $750,000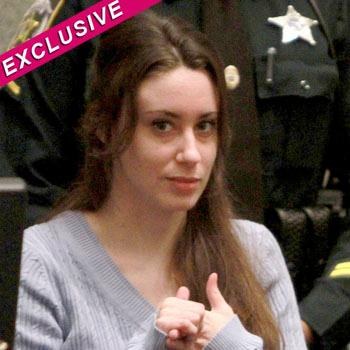 By Alexis Tereszcuk - Radar Senior Reporter
The first interview with acquitted accused baby killer Casey Anthony is being shopped by a TV producer for a whopping $750,000!
The Tot-Mom has been in hiding since a Florida jury found her not guilty of killing her little daughter Caylee Marie, and now producer Scott Sternberg has been pitching a "no-holds-barred" interview with Casey, according to the Hollywood Reporter.
Article continues below advertisement
Multiple sources have told the paper that Sternberg is asking for "between $500,000 and $750,000," and the proposal says the network could choose the interviewer and Scott Sternberg Productions would co-produce the show.
Casey has not spoken publicly since being acquitted of the murder charges, but as RadarOnline.com previously reported, she did wear a wacky disguise for her deposition in the civil defamation lawsuit against her.
Casey's parents Cindy and George Anthony gave a lengthy interview to Dr. Phil McGraw and he made a donation to their charity, Caylee's Fund, in exchange for the sit down.
However, the backlash that was so strong against Casey immediately following her acquittal continues, and multiple cable networks have declined the interview, including Discovery Communications' TLC and ID and A&E Networks' Lifetime and A&E.
Article continues below advertisement