Dr. Phil Interview With Casey Anthony's Parents -- Cindy Defends Casey Entering Hard Body Contest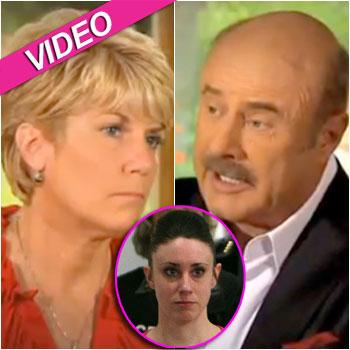 By Alexis Tereszcuk - RadarOnline.com Senior Reporter
In their first interview since their daughter was acquitted of murdering their granddaughter, Cindy and George Anthony spoke with Dr. Phil and actually defended Casey's bizarre behavior!
With Dr. Phil asking probing questions, Cindy and George went through the emotions they felt while little Caylee was presumed missing and what they said to their daughter Casey while she was gone.
Article continues below advertisement
The most shocking part of the interview came when Cindy actually defended Casey entering a hard body contest just days after Caylee died.
Dr. Phil told the couple he thought Casey would have been "heartbroken, devastated, grieving beyond belief, not getting a tattoo that is Italian for 'Beautiful Life,' not entering a hard body contest" and Cindy's defense of her daughter stunned him.
"One of the girls that was supposed to dance that night didn't show up so they asked Casey to dance," Cindy said while looking at a photo of her daughter pictured smiling and partying in a club while Caylee was already dead.
"She was subdued when she got up there. I'm not making excuses for her," Cindy said but Dr. Phil challenged her. "I think you are."
"Her intent wasn't to go up there," Cindy insisted and said the photo was taken out of context. "They don't have a picture of her going to there. The only thing that came out in trial was what they wanted to come out -- to paint her in a bad light."
Dr. Phil's interview with Cindy and George Anthony will continue on Wednesday when George will tell him that he does not believe that Caylee drowned in the family pool, which was the defense Casey used in the trial.
Article continues below advertisement